OUR STAFF
Francisco Ugarte, Senior Immigration Attorney
As Dolores Street's Senior Immigration Attorney, Francisco represents low income San Franciscans in deportation cases, with a particular focus on protecting the constitutional rights of immigrants.  As part of the San Francisco Immigrant Legal and Education Network, he provides front-line and immediate legal defense to immigrants arrested during federal immigration raids. Francisco is committed to a community building approach to legal representation, and is a member of the San Francisco Immigrant Rights Defense Committee, the National Lawyers Guild and the National Immigration Project.  Prior to Dolores Street, Francisco worked as an Associate Attorney at Leonard Carder, LLP, representing unions and workers in labor disputes.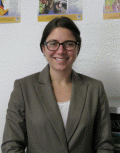 Jackie Shull-Gonzalez, Immigration Attorney
Jackie joined Dolores Street Community Services as an immigration attorney in 2011.  Her work focuses primarily on deportation defense for individuals facing imminent removal.  Prior to joining Dolores Street, Jackie served as an extern for the San Francisco Executive Office for Immigration Review (EOIR) and helped represent detained immigrant youth as an intern at Legal Services for Children.  Most recently, she worked as a Deportation Defense Fellow at Van Der Hout, Brigagliano & Nightingale LLP.  Jackie received her undergraduate degree from Harvard University and her law degree from the University of California, Berkeley.

Annette Wong, SFILEN Program Coordinator
Annette is the San Francisco Immigrant Legal and Education Network program coordinator.  After graduating from UC Davis with degrees in sociology and psychology, she moved to Philadelphia and began working with the immigrant community in the neighborhood of Kensington while getting her master's degree in urban economic development at Eastern University.  Since returning home to the bay area, Annette has continued working to ensure that our immigrant communities have the tools they need to contribute to society and live dignified lives.

Joe Sciarrillo, African Advocacy Network Paralegal, SFILEN Volunteer
Joe grew up in the Bay Area and graduated from Georgetown University, Washington, D.C. in 2006 with a Bachelors of Science in Foreign Service. He majored in Culture and Politics and received an African Studies Certificate along with a French Proficiency Certificate. He completed a Study Abroad program at the Centre Baobab and University of Dakar in Dakar, Senegal between 2004 and 2005.
His studies led him to work as a paralegal and caseworker at the African Immigrant and Refugee Resource Center in San Francisco from 2007 to 2009. His current work at Dolores Street Community Services includes assisting clients assemble visa documentation, assisting the attorney with deportation defense, assisting clients to build their resumes and search for employment, and teaching English and computer skills. He also performs outreach to immigrant community through fairs, Know Your Rights workshops; and at meetings throughout the city.